Gender
Ownership
Leadership
Diversity
The Gold program is part of the bachelor's degree curriculum for all Women's College students. It features "W" courses specially designed for Women's College students to explore the expertise and experience of women.
Students with 15 hours of W courses will receive a notation on their transcript that they are a Gold Program graduate.
Students with 30 hours of W courses will receive a separate Gold Program certificate posted when they earn their degree.
Please see the table below for the required course hours. The number of required hours are prorated based on the number of transfer hours. Students are encouraged to take as many "W" courses as possible. This requirement can not be waived based on a previous degree.
| | |
| --- | --- |
| Hours Transferred: | W course hours required for graduation: |
| 0-24 | 30 |
| 25-44 | 18 |
| 45-59 | 15 |
| 60-74 | 12 |
| 78-89 | 9 |
| 90+ | 6 |
These courses have a W as the ending character in the course number.
W courses can be searched by clicking on "Courses" in the catalog dashboard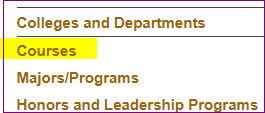 and typing *W in the "Code or Number" box and then clicking the "filter" button.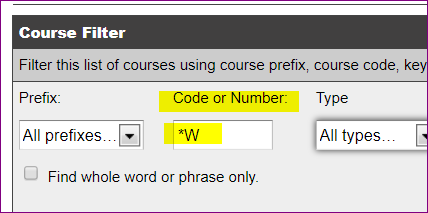 FIRST YEAR:
Gender Focus
Celebrating sisterhood and empowering women to take on the world!
First-Year Experience: Thematic Focus
Gender Studies Course
Gold Team: Personal Advisory Board
Speaker Series
Brenau Sisterhood: Alumnae and Sister Class Connections, peer mentoring
Golden Culture: Contributing to the Brenau Community
SOPHOMORE YEAR
Ownership
Encouraging personal responsibility and civic engagement!
Topical Seminar & Programming - i.e. Culture of Love and Hate, Theory of Happiness, etc. to foster personal awareness and responsibility
Speaker Series
Gold Team
Directed Service Learning Opportunities
Giving to Gold - alumnae engagement
Golden Portfolio - a digital artifact students take into the job market
Focus on Resolving Conflict through Communication
Application to the IDEAL Collective Living-Learning Community
JUNIOR YEAR
Ownership
Preparing dynamic leaders for Brenau and beyond!
Capstone Women's Leadership Course
Dynamic Career Development
Internships, Job Shadowing
Gold Team
Speaker Series
Exploration of Global Leadership Styles
Golden Door to Graduate School - pathways to graduate and post-baccalaureate programs
SENIOR YEAR
Diversity
Expanding perspectives through global vision and inclusivity!
Intercultural Perspectives Course
Capstone Course in Major
Gold Team: Preparation for Life after College
Global Travel or Intercultural Experience
Present Intercultural Experience or Research